Flipaclip Cartoon Animation – If you love Creating Amazing Cartoons or want to learn how you can create these amazing cartoons that you see on TV and the Internet then you have definitely come to the best place as today we are going to tell you about Flipaclip APK: Cartoon Animation Creator & Art Studio.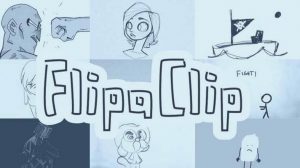 There are a lot of other Apps as well, but this app solely stands out from the rest as it is one of the best apps that is out there in the market. so without further ado let's dig right into its basic info and then features.
What is Flipaclip cartoon animation Application?
FlipaClip Cartoon animation is an amazing app that will allow you to create your own animated characters and bring them to life with this app. With the help of this app, you can learn how to draw these animations that you see on TV and the internet, and at the same time after the creation of your work,  you can also share it online with your friends and family, or others via app's social platforms such as Facebook and Instagram, etc.
This app provides its users the best drawing experience them be it drawing, sketching, storyboarding, or even animation. this fantastic application has easy-to-learn controls and at the same time, it has a powerful user interface as well.
you can do frame to frame animation and create GIFs and videos and also add music or voice over them.
If you are looking for an application that will provide you with all the features to start yourself up as a character designer or animator then you are at the right place as this app surely has all of it,
So without further ado let's jump right onto its features
Amazing Features of FlipaClip APK: Cartoon Animation
Every Sort of drawing tools:- this app has a canvas size of 1920×1920 and all the drawing tools with pressure sensitivity features are already onto them and also supports sonar as well as Samsung S pen.
Add various Animation layers:- with the free version of this app you can add 3 layers to your animation for free and if you go for the pro version you can add up to 10 layers
Free to use: most of the features of FlipaClip cartoon animation are accessible for free and some premium features can also be accessed by the very inexpensive membership plans that Flipaclip offers.
Powerful User Interface:- the user interface of this app is quite strong and appealing.
You can add audio:- you can add music or voice-over onto your Animation and characters.
Share your content:- you can share your creations online on Social networking websites.
Save in various formats: you can save videos and make them as Gif or even Mp4.
Contests for users:- the FlipaClip app hosts contests and the most voted arts receive cash prizes as well.
User and Additional Information on FlipaClip: Cartoon Animation Creator & Art Studio
| | | |
| --- | --- | --- |
| No | App Details | User Information |
| 1 | Last date of update | September 10, 2021 |
| 2 | Size of the app | 68M |
| 3 | total installs | 10 Million + |
| 4 | User rating | 4.3/5 |
| 5 | The current version of the app | 2.5.7 |
| 6 | Offered by | Visual Blasters LLC |