EARN MONEY BY PLAYING THE GAMES YOU LOVE !!!
What is a SkillClash App?
SkillClash is an outstanding gaming site with an extensive quantity of games available that lets you earn money by playing your favorite games. Skill clash serves as an amazing platform that recognizes your gaming skills and pays you for them. Their services are available 24/7 and are quite easy to use. 
Skill clash is quite convenient and does not lack at all. All you have to do is just pick your favorite games and play them. In a matter of seconds, you'll earn money. From a security point of view, Skill clash is pretty safe to operate and is limited to Indian citizens only since this application supports their currency and is not providing its services on an international level. On a side note, It's such an amazing opportunity for people who are enthusiastic about games and want to practice them somewhere.
Moreover, this game is an amazing opportunity to flourish your skills and gain more experience. Skill clash is a very good site with countless games which help you get better at playing and improve your practice. Using this app is very beneficial for people who want to do something productive while having fun and playing games and earning money from them seems like a perfect fit for it. 
Features of SkillClash Download APK
Money-making app for gamers.
Easily accessible and safe to use.
Exclusively for Indian citizens.
Compatible with many languages.
Ad-free application.
Plenty of games are available to play.
Includes different types of games (cricket, ludo, card game).
Requires a functioning internet connection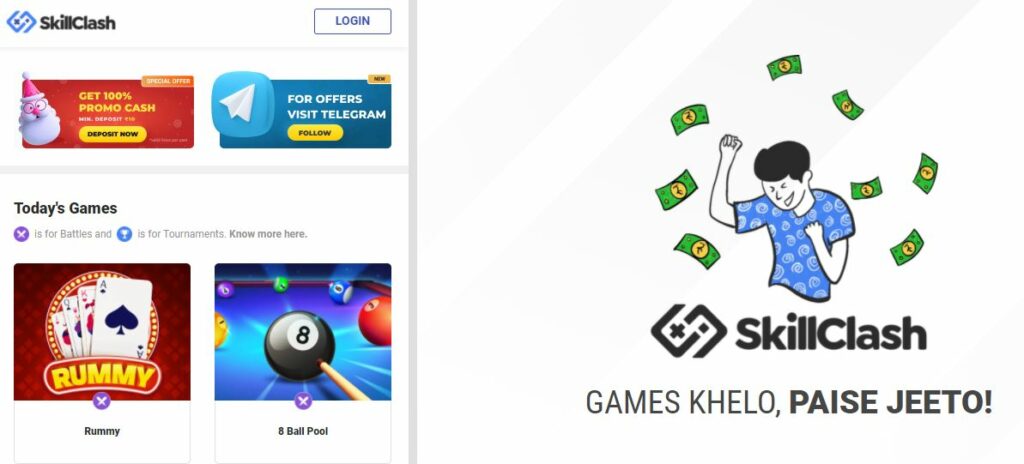 Modes in Skillclash.com
If you download the game, you'll be prompted to choose your preferred mode of play. You are supposed to choose a mode each time you play, Skill clash offers two game modes:
Battles
This is a traditional game mode where you play against your opponent. Players face off against one another and whoever wins gets lots of gifts and other rewards. There is no shortage of games you can play at Skill clash that will allow you to win if you play them smartly. Just use your brain wisely and you're good to go!
Tournaments
The game mode is in which more than two players coordinate and compete against each other. Considering this mode is quite difficult since you have to win against many players, rewards are even greater including vouchers, cash prizes, gifts, etc.
Game Offerings on SkillClash APP
Rummy
8 Ball Pool
Cricket Gunda
Bubble Wipeout
Candy Fiesta
Solitaire Gold
Hero Archer
Failing Through
Fruit Chop
Bottle Shoot
Archery Champs
Carrom Hero
Blazing Blades
Tic Tac Toe
Ludo with Friends
Tic Tac Toe 11
Escape Run
Pirate Hunt
1212!
Merge Mania
Lotto Heaven
FAQs (Frequently asked questions)
What is a SkillClash?
Skill clash is one of the most popular money-making apps which requires players to play games and earn money and is limited to people living in India. Skill clash has revolutionized the way of earning passive income, especially for people who are skilled in certain things. People who love games and are quite experts in playing them will absolutely love this app. Play games and earn money !!!
Is the Skill Clash illegal?
Unlike other games, Skill Clash is completely safe, so your device will not be harmed or your personal information compromised.
Can people outside India use SkillClash?
SkillClash app is limited to Indian citizens only and even if you download the app you will not be able to win prizes which is their motive, it would be quite absurd and illogical to use Skill clash knowing that it is restricted to Indian citizens.
How can we earn money by playing games on Skill clash?
Registration is required for earning money. Registering for Skill clash is as simple as downloading the application and filling out the necessary information. Once you are done with that, then you will be able to get money as you play games and win them.
Does SkillClash have many games?
Yes, SkillClash has plenty of games and an array of options to choose from. You are not restricted to a single game, but different games are available from which you can play and earn money
Conclusion
To sum up, we've reviewed this game quite fairly. Skill clash is an amazing game with captivating features and countless goodies to offer. The potential for earning money from this application should definitely appeal to those who are good at playing games. This application not only improves your skills and excels at them, but also gives you a platform to flourish in them. In the end, I would highly recommend everyone to download it and use it, you won't be disappointed at all. The satisfaction you'll get after winning prices from this app is beyond words.